Spotlight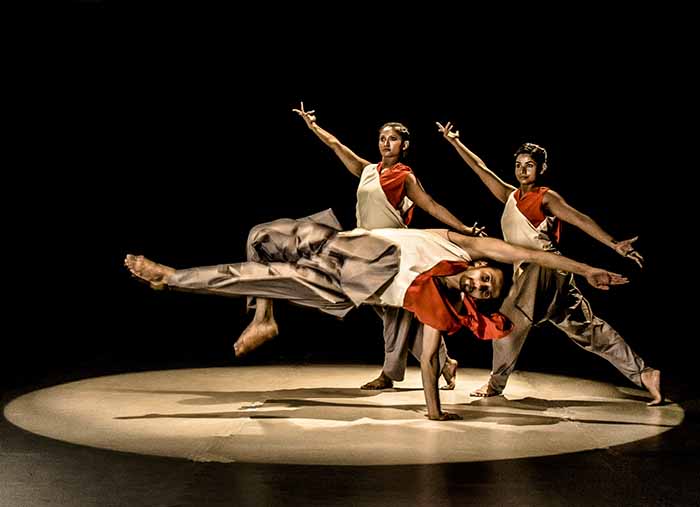 Bhinna Vinyasa- Attakkalari's latest production is previewing in Bangalore
The Attakkalari Repertory Company is all set to preview their latest production, Bhinna Vinyasa on 27th October at Guru Nanak Bhavan in Bangalore. Bhinna Vinyasa could be described as a 'realm of changing configurations/assemblages'. Bhinna Vinyasa explores metaphysical journeys prompted by internal and external forces resulting in profound changes in the lives of individuals and communities. Images from arts and literature morph with the recollections of contemporary lived experiences where the archetypes, mundane and the imaginary coalesce to give you an immersed experience. Mapping the fractured fragments of dreams, desires, hopes and stark realities in the context of rapid and often unplanned urbanization, environmental shifts and migration, Bhinna Vinyasa will lead you through an immersed visceral experience.
Bhinna Vinyasa is directed by Attakkalari's Artistic Director, Jayachandran Palazhy and choreographed by him along with the immensely talented Dancers of the Attakkalari Repertory Company. Andres Morte Teres, the Founder of La Fura Dels Baus and Vice Chairman - Fondazione Fabbrica Europa worked on the Dramaturgy for Bhinna Vinyasa. The sound score is composed by German Composer Martin Lutz while the Carnatic music component is by Pulikesi Kasturi (Nattuvangam), Balasubramanya Sharma (Vocal) and P Janardhana (Mridangam). The light design is by Shymon Chelad with technical support from Niranjan Gokhale, both from Transmedia Technologies, the technical wing of Attakkalari. The Digital Design is by Italian Digital Artist, Luca Brinchi and Costumes by Venky
Following the preview, Bhinna Vinyasa is scheduled to do a world premiere at the Attakkalari India Biennial in February 2017 and a European performance tour from March 2017 onwards.
Entry to the performance is restricted by tickets. Tickets and donor passes are available at Attakkalari and also on www.bookmyshow.com and www.eventshigh.com.
Bhinna Vinyasa is co-produced Fondzione Fabbrica Europa and supported by Ministry of Culture (Govt. of India), BangaloREsidency of the Goethe Institut/ Max Mueller Bhavan and TNQ Private Ltd.
In the News

Last chance to apply for FACETS 2017!



This is the last opportunity for young dance artists to apply for a place in FACETS 2017, an international choreography residency, facilitated and mentored by experienced artists of international repute. We close the applications on 16 October, 2016.

Conceived as a confluence of diverse yet interconnected art practices and disciplines, FACETS 2017 will be a vibrant platform to explore interdisciplinary approaches to creating original work offering the young dance makers the benefits of exchange of ideas, knowledge and experiences.

FACETS 2017 will be held from 2 January to 2 February 2017 in Bengaluru, India. During this period the choreographers will create works which will be premiered at the Attakkalari India Biennial 2017 scheduled from 3 to12 February 2017.

Choreographers from India and other South Asian countries are eligible. International candidates will be selected through our partner organisations only. For More details, click here. To apply, click here

 
PLATFORM 2017: Emerging South Asia- Call for Applications



Platform 2017, the showcase for emerging choreographers, is back as part of the Attakkalari India Biennial 2017. Envisioned as a forum to showcase the works of emerging choreographers/movement artists from the South Asia region –either as a fully developed work or as work-in-progress – in front of an international audience comprising of festival directors, venue managers, promoters, members from the media, fellow artists and arts lovers, Platform 17 is an integral part of the Attakkalari India Biennial 2017.

It provides a creative space for emerging dance artists to showcase their works, engage with the international dance scene and network with festival directors, promoters,  fellow artists, technicians, academicians, pedagogues and audience members, facilitating the development of fresh approaches as well as quality works in contemporary movement arts in the South Asia region.

Platform 2017 invites applications from dance practitioners with a track record of choreographic practice in South Asia. Practitioners from India, Sri Lanka, Pakistan, Bangladesh, Bhutan, Nepal, Afghanistan and Maldives are eligible.

Please send in your applications before 5th November 2016. Selected candidates will be informed by the end of November 2016. For details click here. Send your applications and queries to platform@attakkalari.org.

 

IN OTHER NEWS

Attakkalari at NCPA, Mumbai




Attakkalari will be performing their multimedia production  AadhaaraChakra – a Dancelogue for the NCPA Contemporary Dance Festival on 23rd November, 2016. AadhaaraChakra – a Dancelogue is a hybrid 'performance event', weaving in multiple disciplines - movement, film, light, plastic arts, multimedia design and sound. Set in an imagined land, oscillating between the past and present, the work invites the audience to partake in a ritualised experience. Tickets can be bought here.

TET – Attakkalari Fellowship



Tata Education Trust – Attakkalari Fellowship is an initiative under Attakkalari's The Way of the Masters programme. It is aimed at providing young and emerging performing artistes, access and insight into the Guru/Shishya tradition and to allow for intense yet organic learning of a traditional performing or martial art in the native milieu – to train on site for a month. Online applications are now open. Last date to apply is 20th October, 2016. To apply online, click here. For more details and clarifications, please write to hr@attakkalari.org.
Fresh faces of Diploma - Batch 2016
Attakkalari studios are filled with fresh faces from the eleventh batch of the most sought after 'Diploma in Movement Arts and Mixed Media'. After the successful graduation performance tour of the tenth batch of the programme, the current batch began in the latter half of September, 2016. Along with two sections of the first year, 2016 has welcomed the first batch of the second year of the Diploma programme. The second year will see the 18 students choose their major subject amongst Performance, Choreography and Interdisciplinary Studies, culminating with a final project presentation based on their choice. They will also learn varied subjects including dance therapy, pedagogy, dance theory, aesthetics, arts management and be exposed to real life teaching / performing experiences.

New Classes and Workshops at Attakkalari

Attakkalari has announced new batches of Contemporary movement class that can all be seen here. Apart from these new batches, there are a line of workshops coming up. Some of them are the Flamenco Rumba workshop led by Irene Van Zeeland on 22ndOctober, 2016. Irene is from Netherlands and is with Attakkalari sharing her expertise in Ballet and Contemporary Dance with the first and second year diploma students. She has learnt Flamenco for several years and loves the style for its emotional depth. She will also lead a workshop in Merce Cunningham technique on 13th November, 2016. A fresh batch of Mature Movers' classes led by Attakkalari's Artistic Director Jayachandran Palazhy for people who are above 40 years of age will be commencing in November.

Interested people can register here. Send your queries to education@attakkalari.org .

Photo Credits: Vivek Prabhu, Darshan Manakkal, Park Sang Yun, Tejovanth N, Eric van Nieuwland, Vivitha Vijay and Attakkalari

Attakkalari Centre for Movement Arts
24-04, BTS Bus Depot Road, Wilson Garden, Bangalore-560027
Tel: 91 + 080 + 2212 3684, 4148 3534, 4146 7690
www.attakkalari.org