December 2016
18th
MeiDhwani - Echoes of the Body
Panaji, Goa

November 2016
23rd
AadhaaraChakra - A Dancelogue
NCPA, Mumbai

October 2016
27th
Bhinna Vinyasa Preview
Gurunanak Bhavan, Bangalore

August 2016
20th
Attakkalari Graduation Day, 10th Year Celebration
Regional Theatre, Thrissur

16th
Attakkalari Graduation Day, 10th Year Celebration
The Music Academy, Chennai

13th
Attakkalari Graduation Day, 10th Year Celebration
Guru Nanak Bhavan, Bangalore

6th-7th
Masterclass by Attila Egerházi
Attakkalari Studios, Bangalore

July 2016
30th-31st
Dance/Physical Theatre workshop by Carlos Pons Guerra
Attakkalari Studios, Bangalore

30th
Community Showcase
Attakkalari Studios, Bangalore

23rd-24th
Workshop on Contemporary Dance by Jayachandran Palazhy
Chennai

22nd
A Talk on Dancing Gender by Carlos Pons Guerra
Attakkalari Studios, Bangalore

17th
Repertoire Workshop with Carlos Pons Guerra
Attakkalari Studios, Bangalore

June 2016
19th
Angavyuh
Balatonfüred, Hungary

19th
Angavyuh
Esztergom, Hungary

18th
Angavyuh
Szentendre, Hungary

18th
Angavyuh
Városháza Park, Budapest, Hungary

17th
Angavyuh
Vigado Theatre, Budapest, Hungary

16th-20th
Flying Low and Improvisation Workshop by Narendra Patil
Attakkalari Studios, Bangalore

4th-5th
Advanced Workshop on Lighting Design
Attakkalari Studios, Bangalore

May 2016
31st
Master Class in Kuttiyattam with Usha Nangiar
Attakkalari Studios, Bangalore

17th
Masterclass in Thevarattam with Shri Nellai Manikandan
Attakkalari Studios, Bangalore

April-May 2016
30th-14th
Summer Workshop
Attakkalari Studios, Bangalore

April 2016
9th-22nd
Summer Workshop
Attakkalari Studios, Bangalore

30th
MeiDhwani: Echoes of the Body
Sophia Bhabha Auditorium, Mumbai

March 2016
18th
MeiDhwani: Echoes of the Body
Jawahar Kala Kendra, Jaipur

February 2016
20th-21st
Masterclass in The Zooz Method with Opay L. Goldberg
Attakkalari Studios, Bangalore

20th-21st
Masterclass in Contemporary Movement with Stefano Fardelli
Attakkalari Studios, Bangalore

14th
Masterclass in Chhau with Shri Laxmidhar Mohanta
Attakkalari Studios, Bangalore

January 2016
30th
Santhulan 2016
Gurunanak Bhavan, Bangalore

21st
Workshop with 2Faced Dance Company
Attakkalari Studios, Bangalore

August 2015
14th
Diploma Graduation
JSS Auditorium, Bangalore

July 2015
8th
AadhaaraChakra & MeiDhwani Excerpts
DST Auditorium, University of Hyderabad

5th
AadhaaraChakra - A Dancelogue
JTPAC, Kochi

June 2015
6th
AadhaaraChakra & Bhinna Vinyasa Excerpts
MCPH, Manipal

February 2015
15th
A Male Ant Has Straight Antennae
Ranga Shankara, Bangalore

13th-14th
Black Out
Ranga Shankara, Bangalore

13th
Cesc Gelabert V.O. +
Alliance Francaise de Bangalore

12th
Timeless
Chowdiah Memorial Hall, Bangalore

11th
4 : Still Life
Ranga Shankara, Bangalore

10th
Pattern and Variable
Ranga Shankara, Bangalore

10th
Platform 15
Alliance Francaise de Bangalore

9th
The Past
Chowdiah Memorial Hall, Bangalore

9th
Platform 15
Alliance Francaise de Bangalore

8th
LES CHANTS DES L'UMAI
Ranga Shankara, Bangalore

8th
FACETS
Alliance Francaise de Bangalore

7th
The Measures Taken
Ranga Shankara, Bangalore

7th
FACETS
Alliance Francaise de Bangalore

6th
4, 5
Chowdiah Memorial Hall, Bangalore

December 2014
11th
Absence Presence
UB City, Bangalore

November 2014
16th
Master class with Avant Garde
Attakkalari Studios, Bangalore

14th-15th
Excerpts from AadhaaraChakra - A Dancelogue
Dewan Bandaraya City Hall, Kuala Lumpur (Malaysia)

October 2014
27th-28th
Master class with Scottish Dance Theatre
Attakkalari Studios, Bangalore

September 2014
16th
Master class with Hofesh Shechter Company
Attakkalari Studios, Bangalore

August 2014
26th-27th
Attakkalari India Biennial 2015 Launch
Ranga Shankara, Bangalore

22nd
Diploma Graduation
JSS Auditorium, Bangalore

June 2014
28th
AadhaaraChakra - A Dancelogue
Kerala Fine Arts Hall, Kochi

May - June 2014
31st-1st
Advanced Light Design Workshop
Attakkalari Studios, Bangalore

May 2014
24th-25th
Silambam & Theverattam Master class
Attakkalari Studios, Bangalore

April - May 2014
21st-3rd
Summer Workshop
Attakkalari Studios, Bangalore

April 2014
5th-6th
Kootiyattam & Mizhavu Master class
Attakkalari Studios, Bangalore

March 2014
5th
Master class with Hofesh Shechter
Attakkalari Studios, Bangalore

December 2013
7th
Santhulan
Alliance Francaise de Bangalore

October 2013
24th
MeiDhwani - Echoes of the Body
Kalamandir, Kolkata

23rd
AadhaaraChakra - A Dancelogue
Kalamandir, Kolkata

14th
AadhaaraChakra - A Dancelogue
Divaldo Archa Theatre, Prague (Czech Republic)

10th-12th
MeiDhwani - Echoes of the Body
Halles de Schaerbeek, Brussels (Belgium)

4th-5th
AadhaaraChakra - A Dancelogue
BNM Grand Studio, Marseille (France)

August 2013
29th
AadhaaraChakra - A Dancelogue
Fabrics India warehouse, Chennai

18th-19th
Bahuchari Mata - auditions
Attakkalari Studios, Bangalore

17th
Diploma Graduation
JSS Auditorium, Bangalore

May 2013
25th-26th
Light Design workshop
Attakkalari Studios, Bangalore

April - May 2013
29th-11th
Summer movement workshop
Attakkalari Studios, Bangalore

April 2013
26th
MeiDhwani - Echoes of the Body
Ishanya Mall, Pune

March 2013
22nd
Bardo Beings
Jamsteady Princeton Club, Kolkata

February 2013
5th
MeiDhwani - Echoes of the Body
Regional Theatre, Thrissur

3rd
K-Style
Ranga Shankara, Bangalore

3rd
FACETS
Alliance Francaise de Bangalore

3rd
Lanx / Obtus
ADA Rangamandira, Bangalore

2nd
Lanx / Obtus
ADA Rangamandira, Bangalore

2nd
Transitions
Max Mueller Bhavan/Goethe Institut, Bangalore

1st
Odyssey Complex
Ranga Shankara, Bangalore

1st
FACETS
Alliance Francaise de Bangalore

January 2013
31st
White Caps
Ranga Shankara, Bangalore

31st
FACETS
Alliance Francaise de Bangalore

31st
Platform 13
Guru Nanak Bhavan, Bangalore

30th
Glimpses
Chowdiah Memorial Hall, Bangalore

30th
Platform 13
Guru Nanak Bhavan, Bangalore

29th
Beautiful Thing 2
Ranga Shankara, Bangalore

29th
Esnes.no.n2
Alliance Francaise de Bangalore

28th
Changeable Cohesion
Chowdiah Memorial Hall, Bangalore

27th
Urban Ballet
Chowdiah Memorial Hall, Bangalore

27th
Transitions
Max Mueller Bhavan/Goethe Institut, Bangalore

26th
Glow
Ranga Shankara, Bangalore

26th
FACETS
Alliance Francaise de Bangalore

25th
Manganiyar Seduction
Jayamahal Palace, Bangalore

19-20th
Attakkalari Studios, Bangalore

December 2012
4th
MeiDhwani - Echoes of the Body
NCPA, Mumbai

1st
AadhaaraChakra - A Dancelogue
Purana Qila, New Delhi

November 2012
23rd
AadhaaraChakra - A Dancelogue
Ravindra Kalakshetra, Bangalore

10th-11th, 17th-18th
Masterclass by James MacGillivray
Attakkalari Studios, Bangalore

October 2012
31st
MeiDhwani - Echoes of the Body
IGNITE Festival of Contemporary Dance 2012, New Delhi

25th
Scottish Dance Theatre
Chowdiah Memorial Hall, Bangalore

August 2012
24th
Diploma Graduation
JSS Auditorium, Bangalore

21st
Thang Ta workshop
Attakkalari Studios, Bangalore

2nd
Pollinator 1 Bee Festival
Hyatt Regency, Chennai

June-July 2012
22nd-23rd, 30th-1st
Masala FX
Palace Grounds, Bangalore

May 2012
11th-13th
Devarattam & Silambham workshop
Attakkalari Studios, Bangalore

5th
Swa Atman & Temps d'arrêt
Alliance Francaise de Bangalore

April 2012
27th
rangTARANG
Chowdiah Memorial Hall, Bangalore

April - May 2012
23rd-5th
Summer movement workshop
Attakkalari Studios, Bangalore

March - April 2012
31st-22nd
Weekend Light Design workshop
Attakkalari Studios, Bangalore

March 2012
24th
Kentaro!! Performance
Attakkalari Studios, Bangalore

February 2012
25th
BANG BANG
Malleswaram Bus Stand, Bangalore
24th
BANG BANG
Attakkalari Studios, Bangalore
6th-26th
Samir Akika / Unusual Symptoms
Attakkalari Studios, Bangalore
4th-5th
Workshop
Melbourne Arts Centre, Melbourne
January - February 2012
January, 2012
16th-28th
Workshop with Richard Siegal
December, 2011
18th
Young Choreographers Platform, Nagarika
Bharatiya Vidya Bhavan, Cochin
17th
MeiDhwani
Kerala Fine Arts Hall, Cochin
8th-11th
"Exploring the Senses - Emotions, Performativity, and Ritual"
Clubhaus FU Berlin, Germany
2nd
Young Choreographers Platform
November, 2011
29th
Young Choreographers Platform, Nagarika
SPACES, Elliots Beach Chennai
11th
MeiDhwani
J.S.S. Auditorium, Bangalore
5th-8th
Synchronous Objects (William Forsythe)
Goethe-Institut/Max Mueller Bhavan Bangalore & Attakkalari
October, 2011
19th
Nagarika Presentation & Master classes
Museum of World Culture, Gothenburg, Sweden
17th-18th
Workshop on "Textiles & Performance"
Swedish School of Textiles, Sweden
12th
MeiDhwani
Theatre im Pumpenhaus, Munster
11th-13th
Nadir, Uyire, Padheyam, Uruvam
Tanzhaus nrw, Dusseldorf , Germany
7th, 8th
MeiDhwani
Kunstlerhaus Mousontrum, Frankfurt
2nd
Traces
14th Seoul International Dance Festival
September, 2011
10th-18th
Philadelphia Live Arts Festival
7th
MeiDhwani preview
Ravindra Kalakshetra,Bangalore
August, 2011
19th
Diploma Graduation Ceremony
June, 2011
4th
Nadir & Uyire
Alliance Francaise, Bangalore
May-June, 2011
23rd-2nd
Beyond Project
Amsterdam, The Netherlands
April-May, 2011
30th-1st
Low Lives 3
http://www.ustream.tv/channel/low-lives-3
April, 2011
22nd
Learning & Participation Project
South Bank Centre, London, UK
20th
Farewell in honour of Dr. Evelin Hust
Goethe- Institut/Max Mueller Bhavan, Bangalore
19th
Chaaya
South Bank Centre, London, UK
11th-21st
Alchemy Festival
South Bank Centre, London, UK
9th
Rush & Padheyam
Greenwich Dance Agency, London, UK
3rd
Uruvam
Pavilion Dance/ Dance South West, Bournemouth, UK
2nd
Rush & Padheyam
Pavilion Dance/ Dance South West, Bournemouth, UK
March, 2011
February, 2011
January 2011
28th
Corporeal Kaleidoscpoe
National Gallery of Modern Art, Bangalore
November-December, 2010
27th-19th
Beyond Project
Amsterdam, The Netherlands
November, 2010
October, 2010
31st
Sanchaari
Mammen Mappilai Hall, Kottayam
8th
Sanchaari
Tagore Centenary Hall, Calicut
September, 2010
8th
Sanchaari
Regional Theatre, Trichur
5th
Sanchaari
Kerala Fine Arts Society, Cochin
4th
Young Choreographers Platform Showcase
August, 2010
20th
Diploma Graduation Ceremony
Seva Sadan Association, Bangalore
July, 2010
17th
Auditions for Diploma Programme
June, 2010
26th
Auditions for Diploma Programme
Terence Lewis Dance Company, Mumbai
12th
Uruvam & Chaaya
Alliance Francaise, Bangalore
April, 2010
20th
For Pina...
National Centre for Performing Arts, Mumbai
March, 2010
26th-28th
Chronotopia
Künstlerhaus Mousonturm, Frankfurt, Germany
18th
Evening of Young Choreographers
Museum of World Culture, Gothenburg, Sweden
14th
Chronotopia
Staasts Theater, Schauspielhaus, Germany
February, 2010
5th
For Pina...
Max Mueller Bhavan, New Delhi
2nd
For Pina...
Qutub Shahi Tombs, Hyderabad
January, 2010
30th
For Pina...
Ranga Shankara, Bangalore
28th
For Pina...
Spaces, Elliot Beach, Chennai
19th
Chronotopia
Abhimanch Theatre, New Delhi
17th
Chronotopia
Antarang Theatre, Bharat Bhavan, Bhopal
Kalaripayattu is considered to be the oldest fighting system in existence. It is based on elegant and flexible movements, evasions, jumps and weapons training. Kalaripayattu with its stylized movements has inspired many choreographers, movers and teachers to incorporate the technique to wow audiences during performances. However, dedicated effort is required to practice the form and gain confidence to move briskly from one sequence to the other.
The intensive is structured to impart the basics principles of Kalaripayttu and work towards a grand public presentation on July 15th, 2017 at Gurunanak Bhavan. The classes will break down the technique into simple steps to make it accessible for beginners. The intensive will be ideal for dancer artists, theater professionals, children with some basic dance training/ flexibility and those interested to improve their body flexibility and conditioning.
Register yourself for the intensive here.
Attakkalari's Summer Intensive is approaching!
To all those young people from 5 to 25 years old, register now to spend your summer making some creative moves. The dates of the first batch are 17th to 29th April 2017 with showcase on 29th April! Limited seats only! So go ahead and block yours here now!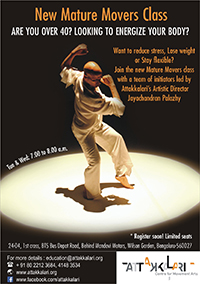 The Mature Movers class will see the next batch begin in March 2017. Attakkalari's Special Dance Class for people who are above 40 years of age will get your morning to an energetic start with slow movement exercises and techniques. It has been noted that being involved with dance sparks new brain cells (neurogenesis) that are responsible for acquiring knowledge and thinking. If you would like to have some exercise that will keep you fit and agile and also have some fun at the same time, register today by sending an email to education@attakkalari.org
Community Classes at Attakkalari
Community classes at Attakkalari give each student specialized training in contemporary technique or Kalaripayattu or Bharatnatyam as they choose. We will be announcing the next date of our community showcase very soon, we have started a host of new classes, at new timings for your convenience register now and start moving today! Click here for the entire schedule of ongoing classes.
Studio Encounters 2017 is an Attakkalari initiative under the Attakkalari India Biennial to facilitate learning and interaction between reputed Indian and International masters and the dance community with quality studio time.
At Studio Encounters, you will have 'Yoga for Dancers' led by Pradeep Sattwamaya from a1000yoga and Kalaripayattu sessions led by Sri Lakshmanan Gurukkal and Sreerag from Kalarigram (Pondicherry), a unit of Hindustan Kalari Sangham, Kerala along with a line of masterclasses led by the visiting companies and artistes.
Register here to enroll for the programme. For more details, visit www.attakkaalribiennial.org
FACETS 2017: The choreographic journey begins on 02 January, 2017 for 7 new and promising residents
FACETS International Choreography Residency programme, organised by Attakkalari Centre for Movement Arts, Bengaluru offers emerging choreographers an inter-disciplinary approach to develop new work and/or further develop their existing work. The participants will undergo a five-week long intense training while being mentored by adept and internationally acclaimed experts including choreographers, light designers, composers, theatre directors and digital artists. The residency will work as a collective with common technique/ skill sharing sessions, feedback forums, with production rehearsals to meet each choreographer's individual needs.
During the Residency the choreographers will create/ develop original dance pieces be premiered at the Attakkalari India Biennial 2017 (3 to 12 February, 2017) that follows FACETS 2017. Some selected works from the residency might be considered for further development and/or for performances in other Indian cities.
Find more information on FACETS and Attakkalari India Biennial 2017 visit our homepage
The best way to kick-start 2017 with some good dancing.
Sankshipta - a three month certificate course - announces the next batch beginning in January, 2017. This crisp and befitting course for working professionals and college students will engage you in Contemporary Dance and allied disciplines and have you wanting for more. If you want to dance and think may be it is too late, come join us. It is never too late at Attakkalari!
The course is tentatively slated to commence on the 12th January, 2017. The classes will be on Thursdays, Fridays, Saturdays and Sundays. Thursday and Friday from 7 am to 8.30 am and on Weekends, 7 am to 10.30 am. ​Sankshipta will primarily​ have classes in Contemporary Dance​ and brief modules in​ Kalaripayattu, Bharatanatyam, Ballet and Body conditioning. ​There will be a​ public​ ​p​resentation at the end to showcase what​ was learnt during the course​.​ The course fee is Rs.30,000.
Registrations open now! Interested candidates can register yourself here.
Photography Credits:
Vivek Prabhu, Park Sang-Yun, Sara Davis, T.V.Sebastian Varkey, Andy Ross, Dilip Banerjee, Anoop Kumar, Sudeep Bhattacharya, David Coleman, Anand K, Carlos Collado & Attakkalari, Tejovanth N, Suneeth Halgeri, The Hindu
Attakkalari is supported by The Royal Norwegian Embassy, Sir Ratan Tata Trust, Tata Education Trust and the Department of Culture, Government of India.