June 2016
4th-5th
Advanced Workshop on Lighting Design
Attakkalari Studios, Bangalore

May 2016
31st
Master Class in Kuttiyattam with Usha Nangiar
Attakkalari Studios, Bangalore

17th
Masterclass in Thevarattam with Shri Nellai Manikandan
Attakkalari Studios, Bangalore

April-May 2016
30th-14th
Summer Workshop
Attakkalari Studios, Bangalore

April 2016
9th-22nd
Summer Workshop
Attakkalari Studios, Bangalore

30th
MeiDhwani: Echoes of the Body
Sophia Bhabha Auditorium, Mumbai

March 2016
18th
MeiDhwani: Echoes of the Body
Jawahar Kala Kendra, Jaipur

February 2016
20th-21st
Masterclass in The Zooz Method with Opay L. Goldberg
Attakkalari Studios, Bangalore

20th-21st
Masterclass in Contemporary Movement with Stefano Fardelli
Attakkalari Studios, Bangalore

14th
Masterclass in Chhau with Shri Laxmidhar Mohanta
Attakkalari Studios, Bangalore

January 2016
30th
Santhulan 2016
Gurunanak Bhavan, Bangalore

21st
Workshop with 2Faced Dance Company
Attakkalari Studios, Bangalore

August 2015
14th
Diploma Graduation
JSS Auditorium, Bangalore

July 2015
8th
AadhaaraChakra & MeiDhwani Excerpts
DST Auditorium, University of Hyderabad

5th
AadhaaraChakra - A Dancelogue
JTPAC, Kochi

June 2015
6th
AadhaaraChakra & Bhinna Vinyasa Excerpts
MCPH, Manipal

February 2015
15th
A Male Ant Has Straight Antennae
Ranga Shankara, Bangalore

13th-14th
Black Out
Ranga Shankara, Bangalore

13th
Cesc Gelabert V.O. +
Alliance Francaise de Bangalore

12th
Timeless
Chowdiah Memorial Hall, Bangalore

11th
4 : Still Life
Ranga Shankara, Bangalore

10th
Pattern and Variable
Ranga Shankara, Bangalore

10th
Platform 15
Alliance Francaise de Bangalore

9th
The Past
Chowdiah Memorial Hall, Bangalore

9th
Platform 15
Alliance Francaise de Bangalore

8th
LES CHANTS DES L'UMAI
Ranga Shankara, Bangalore

8th
FACETS
Alliance Francaise de Bangalore

7th
The Measures Taken
Ranga Shankara, Bangalore

7th
FACETS
Alliance Francaise de Bangalore

6th
4, 5
Chowdiah Memorial Hall, Bangalore

December 2014
11th
Absence Presence
UB City, Bangalore

November 2014
16th
Master class with Avant Garde
Attakkalari Studios, Bangalore

14th-15th
Excerpts from AadhaaraChakra - A Dancelogue
Dewan Bandaraya City Hall, Kuala Lumpur (Malaysia)

October 2014
27th-28th
Master class with Scottish Dance Theatre
Attakkalari Studios, Bangalore

September 2014
16th
Master class with Hofesh Shechter Company
Attakkalari Studios, Bangalore

August 2014
26th-27th
Attakkalari India Biennial 2015 Launch
Ranga Shankara, Bangalore

22nd
Diploma Graduation
JSS Auditorium, Bangalore

June 2014
28th
AadhaaraChakra - A Dancelogue
Kerala Fine Arts Hall, Kochi

May - June 2014
31st-1st
Advanced Light Design Workshop
Attakkalari Studios, Bangalore

May 2014
24th-25th
Silambam & Theverattam Master class
Attakkalari Studios, Bangalore

April - May 2014
21st-3rd
Summer Workshop
Attakkalari Studios, Bangalore

April 2014
5th-6th
Kootiyattam & Mizhavu Master class
Attakkalari Studios, Bangalore

March 2014
5th
Master class with Hofesh Shechter
Attakkalari Studios, Bangalore

December 2013
7th
Santhulan
Alliance Francaise de Bangalore

October 2013
24th
MeiDhwani - Echoes of the Body
Kalamandir, Kolkata

23rd
AadhaaraChakra - A Dancelogue
Kalamandir, Kolkata

14th
AadhaaraChakra - A Dancelogue
Divaldo Archa Theatre, Prague (Czech Republic)

10th-12th
MeiDhwani - Echoes of the Body
Halles de Schaerbeek, Brussels (Belgium)

4th-5th
AadhaaraChakra - A Dancelogue
BNM Grand Studio, Marseille (France)

August 2013
29th
AadhaaraChakra - A Dancelogue
Fabrics India warehouse, Chennai

18th-19th
Bahuchari Mata - auditions
Attakkalari Studios, Bangalore

17th
Diploma Graduation
JSS Auditorium, Bangalore

May 2013
25th-26th
Light Design workshop
Attakkalari Studios, Bangalore

April - May 2013
29th-11th
Summer movement workshop
Attakkalari Studios, Bangalore

April 2013
26th
MeiDhwani - Echoes of the Body
Ishanya Mall, Pune

March 2013
22nd
Bardo Beings
Jamsteady Princeton Club, Kolkata

February 2013
5th
MeiDhwani - Echoes of the Body
Regional Theatre, Thrissur

3rd
K-Style
Ranga Shankara, Bangalore

3rd
FACETS
Alliance Francaise de Bangalore

3rd
Lanx / Obtus
ADA Rangamandira, Bangalore

2nd
Lanx / Obtus
ADA Rangamandira, Bangalore

2nd
Transitions
Max Mueller Bhavan/Goethe Institut, Bangalore

1st
Odyssey Complex
Ranga Shankara, Bangalore

1st
FACETS
Alliance Francaise de Bangalore

January 2013
31st
White Caps
Ranga Shankara, Bangalore

31st
FACETS
Alliance Francaise de Bangalore

31st
Platform 13
Guru Nanak Bhavan, Bangalore

30th
Glimpses
Chowdiah Memorial Hall, Bangalore

30th
Platform 13
Guru Nanak Bhavan, Bangalore

29th
Beautiful Thing 2
Ranga Shankara, Bangalore

29th
Esnes.no.n2
Alliance Francaise de Bangalore

28th
Changeable Cohesion
Chowdiah Memorial Hall, Bangalore

27th
Urban Ballet
Chowdiah Memorial Hall, Bangalore

27th
Transitions
Max Mueller Bhavan/Goethe Institut, Bangalore

26th
Glow
Ranga Shankara, Bangalore

26th
FACETS
Alliance Francaise de Bangalore

25th
Manganiyar Seduction
Jayamahal Palace, Bangalore

19-20th
Attakkalari Studios, Bangalore

December 2012
4th
MeiDhwani - Echoes of the Body
NCPA, Mumbai

1st
AadhaaraChakra - A Dancelogue
Purana Qila, New Delhi

November 2012
23rd
AadhaaraChakra - A Dancelogue
Ravindra Kalakshetra, Bangalore

10th-11th, 17th-18th
Masterclass by James MacGillivray
Attakkalari Studios, Bangalore

October 2012
31st
MeiDhwani - Echoes of the Body
IGNITE Festival of Contemporary Dance 2012, New Delhi

25th
Scottish Dance Theatre
Chowdiah Memorial Hall, Bangalore

August 2012
24th
Diploma Graduation
JSS Auditorium, Bangalore

21st
Thang Ta workshop
Attakkalari Studios, Bangalore

2nd
Pollinator 1 Bee Festival
Hyatt Regency, Chennai

June-July 2012
22nd-23rd, 30th-1st
Masala FX
Palace Grounds, Bangalore

May 2012
11th-13th
Devarattam & Silambham workshop
Attakkalari Studios, Bangalore

5th
Swa Atman & Temps d'arrêt
Alliance Francaise de Bangalore

April 2012
27th
rangTARANG
Chowdiah Memorial Hall, Bangalore

April - May 2012
23rd-5th
Summer movement workshop
Attakkalari Studios, Bangalore

March - April 2012
31st-22nd
Weekend Light Design workshop
Attakkalari Studios, Bangalore

March 2012
24th
Kentaro!! Performance
Attakkalari Studios, Bangalore

February 2012
25th
BANG BANG
Malleswaram Bus Stand, Bangalore
24th
BANG BANG
Attakkalari Studios, Bangalore
6th-26th
Samir Akika / Unusual Symptoms
Attakkalari Studios, Bangalore
4th-5th
Workshop
Melbourne Arts Centre, Melbourne
January - February 2012
January, 2012
16th-28th
Workshop with Richard Siegal
December, 2011
18th
Young Choreographers Platform, Nagarika
Bharatiya Vidya Bhavan, Cochin
17th
MeiDhwani
Kerala Fine Arts Hall, Cochin
8th-11th
"Exploring the Senses - Emotions, Performativity, and Ritual"
Clubhaus FU Berlin, Germany
2nd
Young Choreographers Platform
November, 2011
29th
Young Choreographers Platform, Nagarika
SPACES, Elliots Beach Chennai
11th
MeiDhwani
J.S.S. Auditorium, Bangalore
5th-8th
Synchronous Objects (William Forsythe)
Goethe-Institut/Max Mueller Bhavan Bangalore & Attakkalari
October, 2011
19th
Nagarika Presentation & Master classes
Museum of World Culture, Gothenburg, Sweden
17th-18th
Workshop on "Textiles & Performance"
Swedish School of Textiles, Sweden
12th
MeiDhwani
Theatre im Pumpenhaus, Munster
11th-13th
Nadir, Uyire, Padheyam, Uruvam
Tanzhaus nrw, Dusseldorf , Germany
7th, 8th
MeiDhwani
Kunstlerhaus Mousontrum, Frankfurt
2nd
Traces
14th Seoul International Dance Festival
September, 2011
10th-18th
Philadelphia Live Arts Festival
7th
MeiDhwani preview
Ravindra Kalakshetra,Bangalore
August, 2011
19th
Diploma Graduation Ceremony
June, 2011
4th
Nadir & Uyire
Alliance Francaise, Bangalore
May-June, 2011
23rd-2nd
Beyond Project
Amsterdam, The Netherlands
April-May, 2011
30th-1st
Low Lives 3
http://www.ustream.tv/channel/low-lives-3
April, 2011
22nd
Learning & Participation Project
South Bank Centre, London, UK
20th
Farewell in honour of Dr. Evelin Hust
Goethe- Institut/Max Mueller Bhavan, Bangalore
19th
Chaaya
South Bank Centre, London, UK
11th-21st
Alchemy Festival
South Bank Centre, London, UK
9th
Rush & Padheyam
Greenwich Dance Agency, London, UK
3rd
Uruvam
Pavilion Dance/ Dance South West, Bournemouth, UK
2nd
Rush & Padheyam
Pavilion Dance/ Dance South West, Bournemouth, UK
March, 2011
February, 2011
January 2011
28th
Corporeal Kaleidoscpoe
National Gallery of Modern Art, Bangalore
November-December, 2010
27th-19th
Beyond Project
Amsterdam, The Netherlands
November, 2010
October, 2010
31st
Sanchaari
Mammen Mappilai Hall, Kottayam
8th
Sanchaari
Tagore Centenary Hall, Calicut
September, 2010
8th
Sanchaari
Regional Theatre, Trichur
5th
Sanchaari
Kerala Fine Arts Society, Cochin
4th
Young Choreographers Platform Showcase
August, 2010
20th
Diploma Graduation Ceremony
Seva Sadan Association, Bangalore
July, 2010
17th
Auditions for Diploma Programme
June, 2010
26th
Auditions for Diploma Programme
Terence Lewis Dance Company, Mumbai
12th
Uruvam & Chaaya
Alliance Francaise, Bangalore
April, 2010
20th
For Pina
National Centre for Performing Arts, Mumbai
March, 2010
26th-28th
Chronotopia
Künstlerhaus Mousonturm, Frankfurt, Germany
18th
Evening of Young Choreographers
Museum of World Culture, Gothenburg, Sweden
14th
Chronotopia
Staasts Theater, Schauspielhaus, Germany
February, 2010
5th
For Pina...
Max Mueller Bhavan, New Delhi
2nd
For Pina...
Qutub Shahi Tombs, Hyderabad
January, 2010
30th
For Pina...
Ranga Shankara, Bangalore
28th
For Pina...
Spaces, Elliot Beach, Chennai
19th
Chronotopia
Abhimanch Theatre, New Delhi
17th
Chronotopia
Antarang Theatre, Bharat Bhavan, Bhopal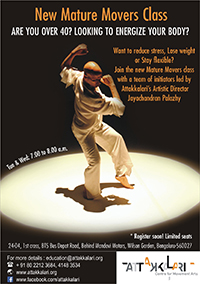 Responding to repeated requests from several interested people, Attakkalari has decided to start a Special Dance Class for people who are above 40 years of age. According to Judith Lynne Hanna: "Dancers possess an extraordinary skill set—coordination of limbs, posture, balance, gesture, facial expression, perception, and action in sequences that create meaning in time and space. Being involved with dance sparks new brain cells (neurogenesis) that are responsible for acquiring knowledge and thinking." If you are thinking of having some exercise that will keep you fit and agile and also have some fun at the same time in the company of people of similar age and background, then this might be the class you are looking for. The "Mature Movers" classes will be led by Artistic Director, Jayachandran Palazhy, and held at Attakkalari Studios in Wilson Garden, Bangalore
The third batch dates are 24, 25, 31 May, and 1, 7, 8, 14, 15 of June 2016.
Time:-7:00am to 8:00am
Fees:-Rs.3,200/- plus registration of Rs.500
Sankshipta – Now with more techniques, more fun!
Attakkalari's recent venture 'Sankshipta' which is a tailor made three month certification course in Contemporary Dance and Allied Disciplines for Working professionals and full-time students is a testimony that not only people who want to make a career in dance are passionate and sincere but also others who want to pursue their hidden talent in some way or the other. In spite of having hectic days ahead of them, the students of Sankshipta's first batch are going strong on the floor with so much excitement and commitment. They have now started their contemporary dance choreography preparing themselves for a public performance on February 13th.
Building on the success of the first batch and incorporating the valuable feedback and inputs from the students, the new batch will cater for the specific needs of the working professionals as well as full time students by laying special focus on skills development in movement techniques. Participants will get opportunities to train under the visiting international faculty on diverse techniques as well as with masters of Indian movement traditions. The programme will begin on Saturday, 27th February, 2016 and the initial sessions will be led by Attakkalari's Artistic Director Jayachandran Palazhy. The course fee is Rs.30,000/- and the registrations are closing soon. If interested, please submit your details here.
The Attakkalari Repertory Company will be performing on 31st January for ELAN - the annual cultural festival of IIT, Hyderabad. The Company will showcase 'Anga Sutra – An evening of Mixed Bill', a piece which is an amalgamation of Indian traditional movement vocabularies and body concepts together with contemporary experiences and approach. The Repertory members under the lead of Artistic Director Mr. Jayachandran Palazhy will also be facilitating a public workshop in Contemporary Dance Movement to all the visitors of the festival from various colleges across Hyderabad. Attakkalari will be featured as the cultural partner of ELAN 2016.
Following which, there will be a multi-day workshop at IIT-Hyderabad and University of Hyderabad facilitated as part of the students' curriculum.
Kalaripayattu is considered to be the oldest fighting system in existence. Northern Kalaripayattu is based on elegant and flexible movements, evasions, jumps and weapons training. Attakkalari announces a new batch of community classes in Kalaripayattu for children in the age group of 5 to 13 years from October 31st, 2015.
Classes take place in Studio 2 at Attakkalari are 10.00 a.m. to 11.00 a.m. on Saturdays and 4.00 p.m. to 5.00 p.m. on Sundays.
Those who are interested to register their children for these classes please click here.
The classes specially designed for young children will help the students develop the following benefits over a period of time of training:

A better working mind and body
Increased flexibility and stamina
A sharper, more focused mind
A stronger sense of self confidence
More self discipline
The ability to physically defend themselves
Stress relief through breathing exercises and meditation
Overall sense of well being
This new batch will be conducted by Sreerag C. who is trained in Kalaripayattu at the Hindustan Kalari Sangam in Puthiyara, Calicut. He comes from the lineage of Kalaripayattu masters such as Guru Veera-sree Sami gurukkal.
Sankshipta: Three month Certification course in Contemporary Dance and Allied Disciplines
Attakkalari announces Sankshipta, a concise 3-month Certificate Course in Contemporary Dance and Allied Disciplines, tailor made for working professionals and full time students. The course will begin on 6th November 2015 and will culminate with a public performance in February, 2016. It is best suited for ages 16 and above. Classes will be in the early morning hours on Thursday, Friday, Saturday and Sundays. Thursdays and Fridays will be from 6.30 a.m. to 8.00 a.m. Weekends will be from 7 a.m. to 10 a.m.
The participants in the course will have the opportunity to learn from the Artistic Director of Attakkalari as well as from acclaimed national and international faculty.
Apart from classes in different styles of Contemporary Dance, there will be sessions in Kalaripayattu, Bharatanatyam and Ballet. Participants will have the opportunity to be part of the creative process and present the work thus created in front of a wider audience.
The course fee is Rs. 30,000/- and the registration is now open. As seats are limited please register to secure your place by filling in your details here. The deadline for online registrations is 15th October, 2015.
For further information, call 080 2212 3684 / 4146 7690 or write to projects@attakkalari.org or aseema@attakkalari.org.
Youth Workshop in Bengaluru – Auditions across Karnataka
The Attakkalari Centre for Movement Arts, Bengaluru with the support of Department of Youth Empowerment and Sports, Karnataka announces a week long Introductory Movement Workshop in Bengaluru. Auditions to select participants for the workshop will be conducted across Karnataka.
This is a free, one-week workshop organized in the first week of August in Bengaluru focusing on Dance and Movement Arts Education. It will be an extensive engagement from 9 am to 4 pm everyday and will provide young minds a skill development opportunity especially for those considering dance as a viable career. The participants of the workshop will get first hand experience of interacting with the Artistic Director and senior dancers of Attakkalari and get an insight into the intense training that goes into the making of a performance.
Audition Schedule:
16th July, 2015 – 1 pm to 4 pm - Dr Chandrashekar Patil Indoor Stadium, Kalaburagi (Gulbarga), Karnataka 585102
17th July, 2015 - 1 pm to 4 pm - Rajya Sarkari Naukarara Bhavana, Near Town Hall, Hampanakatte, Mangalore, Karnataka 575001
20th July, 2015 - 1 pm to 4 pm - R N Shetty Indoor Stadium, College Road, Dharwad, Karnataka - 580008
21st July, 2015 - 3 pm to 6 pm – Yavanika auditorium, State Youth Centre, Nrupathunga Rd, Near Reserve Bank, Bengaluru, Karnataka - 560001
22nd July, 2015 - 1 pm to 4 pm - Chamundi Vihar Indoor Stadium, Nazarbad, Mysuru, Karnataka - 570010.
Photography Credits:
Sara Davis, T.V.Sebastian Varkey, Andy Ross, Dilip Banerjee, Anoop Kumar, Sudeep Bhattacharya, David Coleman, Anand K, Carlos Collado & Attakkalari.
Attakkalari is supported by The Royal Norwegian Embassy, Sir Ratan Tata Trust, Tata Education Trust and the Department of Culture, Government of India.