Spotlight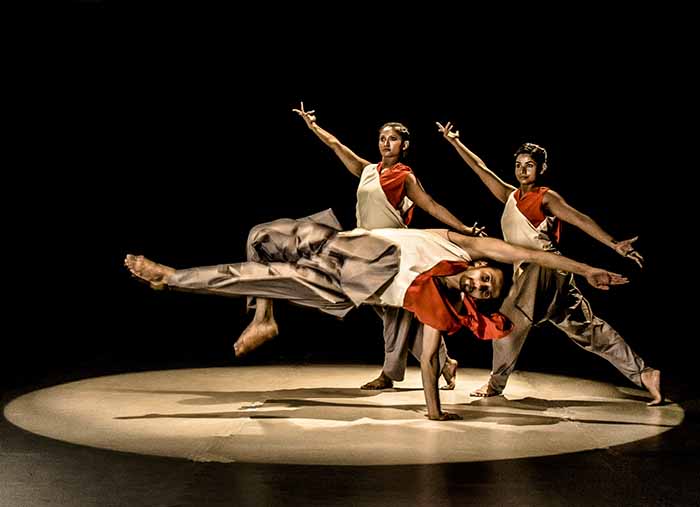 Bhinna Vinyasa- Bhinna Vinyasa tours India in March
2018 kicks off with an exciting start as the Attakkalari Dance Company begins its national tour of Bhinna Vinyasa, our acclaimed multimedia dance production, after an extremely well received tour of Europe and China last year. We begin with Delhi, where the company participates at the prestigious 8th Theatre Olympics presented by National School of Drama. This is followed by the Navras Festival in Jaipur at the iconic Jawahar Kala Kendra. Workshops and other outreach programmes are scheduled in Delhi and Jaipur as well. The Dance Company is scheduled to tour extensively in the coming months - so watch out for this space. Bhinna Vinyasa is co-produced by Attakkalari Centre for Movement Arts (Bangalore), Fondazione Fabbrica Europa (Florence) and TNQ Pvt Ltd., 'BHINNA VINYASA' is supported by the Ministry of Culture, Government of India, Max Mueller Bhavan and the Royal Norwegian Embassy. The production features international artists Luca Brinchi (digital artist), Andres Morte (Dramaturge), Martin Lutz (composer) and esteemed Carnatic musicians working with artistic Director Jayachandran Palazhy and the talented dancers of internationally acclaimed Attakkalari Dance Company.
The performance details are as follows:
Delhi - Friday, 16 March 2018, 7.00 PM at Abhimanch Theatre, National School of Drama
Jaipur – Wednesday, 21 March 2018, 7.00 PM at Jawahar Kala Kendra
In the News

Attakkalari launches Essence: an advanced dance training camp



March 2018 will witness Attakkalari kicking-off Essence series - our first intensive advanced training programme for dancers and movement artists from across the country. Essence is a specially crafted, comprehensive and modular training initiative led by internationally acclaimed artists from dance and allied fields to meet the skills enhancement needs of professional dance artists and performers. This professional development programme will encapsulate exciting modules in physical training, collaborative practices, peer to peer reviews and artistic development that dance professionals seek to further their careers. Dancers with a minimum of two years of performance experience could apply for the programme.. The first edition of Essence would presented in association with Counter Technique, Melbourne and Goethe Institute Bengaluru.

Niharika Senapaty works as a dancer and teacher with Chunky Move (Australia). She works very closely with the artistic director of Chunky Move, Anouk van Dijk, in mastering 'Counter Technique' and leading training sessions internationally. She has also worked with many other choreographers such as Rachel Arianne Ogle, Emma Fishwick, Joanna Pollitt, Brooke Stamp, Leisel Zink and Carl Sciberras.

Antonio Carallo has an illustrious career as a dancer, actor, choreographer and teacher. He has collaborated, both as a dancer and actor with various choreographers and directors of international renown, among them: Pina Bausch,Pippo del Bono, Amos Gitai, Raffaella Giordano, Bouvier-Obadia, Jéròme Bel, Alain Platel.

Counter Technique course with Niharika Senapaty (Chunky Move) from 19 to 24 March at 10 AM

Antonio Carallo (X-Pina Bausch dancer & choreographer) from 26 to 31 March at 10 AM

For further information including the course fees and to block your seats, please write to education@attakkalari.org

 
Yashti comes back to Kolkata, Delhi and Jaipur



After a very successful 8-city tour in the UK Yashti kickstarts its India tour with Kolkata, Delhi and Jaipur.

Yashti sees award winning choreographer Hemabharathy Palani and acclaimed Spanish Composer Miguel Marin create a sensorial and multi-layered portrait of a woman through anecdotes by delving into the cultural memories of other women who have chosen an alternative path. Yashti is co-produced as part of BENCH Project by 2 Faced Dance Company and Attakkalari as part of Re-imagine India of the Arts Council England. The India performances are supported by Sambhavana Festival, Jawahar Kalakendra, Spanish Embassy and Instituto Cervantes.

The performance details are as follows:

Kolkata – Saturday, 3 March 2018, 7 PM at ICCR Auditorium

Delhi – Sunday, 18 March 2018, 7 PM at Instituto Cervantes (tbc)

Jaipur – Thursday, 22 March 2018, 6.30 PM at Jawahar Kala Kendra .

 
We're auditioning for the National Diploma Programme
Auditions for Attakkalari's National Diploma Programme in Movement Arts and Mixed is now open.

We're looking for individuals who have aptitude as well as talent and are keen to have an international dance education. Attakkalari's Diploma in Movement Arts and Mixed Media programme is the only one of its kind course in India and led by acclaimed International faculty and Indian masters. The auditions will be combined with workshops that offer insight into the unique vocabulary developed by Attakkalari through years of research and drawing sustenance from many Indian physical and performance traditions as well as global contemporary dance idioms.

These workshop/audition sessions are led by our Artistic Director Jayachandran Palazhy along with senior members of the Attakkalari Dance Company.

Delhi Saturday, 17 and Sunday, 18 March 2018, 2 PM to 5 PM at Instituto Cervantes Fees – INR 1500 (two days) INR 800 (one day)

Jaipur Thursday 22 March 2018 from 10 am to 1 pm at Jawahar Kala Kendra Fees; - INR 500

Seats are fast filling, so you need to write to education@attakkalari.org to book your slots for the following audition dates

IN OTHER NEWS

Kier Choreography Awards invites our Artistic Director to Melbourne




Our Artistic Director, Jayachandran Palazhy is invited by Dancehouse Melbourne for the 2018 Kier Choreography Awards in Melbourne from 7 to 11 March 2018. The Kier Choreography Awards is Australia's first major choreographic award programme supported by the Australian Arts Council

Education throwback: our students part of Tata Trusts' Kalapana Festival



It was a moment of honour for the second-year students of our National Diploma Programme to be representing Attakkalari at the Kalapana Festival presented by the Tata Trusts. The students presented performances based on their training from 'The Way of The Masters Programme' which was supported by the Tata Trusts in which masters from folk and traditional performing arts as well as martial arts worked with young contemporary dancers sharing knowledge and perspectives.

 
Attakkalari's Summer Camp is back with a bang!

Attakkalari is celebrating International Dance day not only on 29th April, but all through the month with a host of different events. Two inspiring summer intensives that promise opportunities to learn from world class teachers and perform a choreography at the end of it, whether you are uninitiated or experienced in dancer. Through specially customised sessions for the needs of 5-8 years, 9- 12 years and 13 – 18 years, participants will get the opportunity to learn diverse styles of dance forms, movements from martial arts and acquire creative theatre and performance skills. The resulting public performance will consolidate the gains of this joyful and exciting 2 weeks of learning at Attakkalari.

Registration are now open for the first camp which starts on 23 April and closes on 5 May 2018.

Seats are fast filling quickly. Please write to activities@attakkalari.org to book your seats today

 

 

Opportunities to lead national and international projects in performing arts at Attakkalari Centre for Movement Arts, Bengaluru, India's leading contemporary dance organization. Be a part of innovative and path-breaking dance education initiatives, festivals and productions, and gain unparalleled skills and experiences.

If you are interested, please visit our career page

Meet our Artists Residents

Our education portfolio is consistently supported by international resource persons who collaborate with Attakkalari Centre for Movement Arts as Artists in Residence. Jori Kerremans from Belgium is currently working with our students of the diploma programme , Vittoria De Ferrari Sapetto (Belgium/Italy) trained our students extensively in February, Anna Dora Dorina and Nicola Pianzola (Italy) will be working with our students from 19 March 2018; Niharika Senapati (Chunky Move, Melbourne) will be conducting sessions for our students in Counter Technique from 19 March, while with the support of Goethe Institute Bengaluru Antonio Carallo (X-Pina Bausch dancer & choreographer) will lead sessions from 26 to 31 March. Apart from offering their skills and expertise for the Diploma students, these artists will also conduct Master Classes for the professional dancers culminating in public presentations. For further information please contact:  education@attakkalari.org

 

Attakkalari in its 25 years of existence has empowered countless young people to develop their artistic skills for employability, built sustainable partnerships in India and the world, and presented some of the best performances from across the globe through South Asia's leading Biennial Festival for Contemporary Dance. We're now able to reimagine movement arts and take it to the next level and we could only do this with your support. We urge you to sign up on our Friends of Attakkalari campaign to collectively support our vision. Please visit us at www.attakkalari.org to know more, join our journey and enable us to undertake even better initiatives, get bigger and cooler.

Photo Credits: Vivek Prabhu, Darshan Manakkal, Park Sang Yun, Tejovanth N, Eric van Nieuwland, Vivitha Vijay,Pippa Dodds, NDTV.com and Attakkalari

Attakkalari Centre for Movement Arts
24-04, BTS Bus Depot Road, Wilson Garden, Bangalore-560027
Tel: 91 + 080 + 2212 3684, 4148 3534, 4146 7690
www.attakkalari.org