Spotlight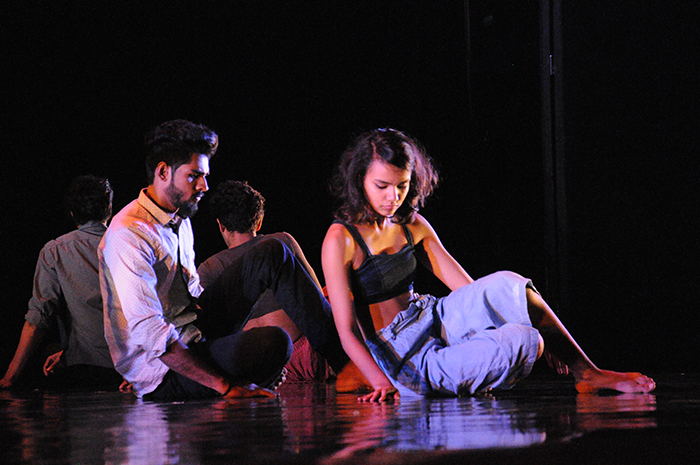 Farewell to the 11th batch of Diploma Graduates, and an exciting welcome to the new 12th Batch
Its that time of the year again for us! Attakkalari's 11th Diploma Graduation ended with much fanfare and festivities, to many accolades and wide acclaim. We were written up by newspapers, our team of choreographers and dancers basked in felicitations, and our international faculties bid us fond adieus promising to return soon. Thus with the memory of that dazzling Graduation show still fresh in our minds, we welcomed our 12th batch of Diploma students this September. Culled from a dozen other Diploma hopefuls from India and abroad, the students have been selected based on their strength, flexibility, and an ability to replay short choreographic sequences from memory. And now after all, that they stand in our studios where their skills and talents will be further honed so that not only will they have a firm grasp on the idioms of Contemporary movement techniques, but also learn to think and conceive of the concepts that go into such a style.
Meanwhile our second batch of the Second Year Course in Diploma has also taken off in earnest. Unlike the First Years, who will undergo a rigorous training in technique and form, our Second Years must learn to think laterally about Contemporary dance and must choose and complete a Major in either Dance Pedagogy, Choreography or Performance. Furthermore, they will supplement their knowledge in these forms with additional training in Theory in Aesthetics, Dance Therapy and Arts Management.
Guiding them in this process will be faculties drawn from various parts of the world. In the current first term, for Contemporary and Ballet we have Irene Van Zeeland (Netherlands), a graduate of the Cunningham Institute, who has taught at Attakkalari this past year as well. Marje Leena Hirvonen (Germany) is a current Bangalore Resident of the Goethe Institute, and she is working with both the First and Second Years to create a choreographic piece that will be showcased as a part of her Residency project. And of course we have the experienced faculty of Attakkalari itself in Smt Minal Prabhu, Denny Paul and Sreerag C, who have through the past years patiently and excellently shaped dancers of the Diploma course.
And speaking of support, we would be remiss if we didn't thank our supporting partners, FANUC and TNQ, who through the past years and even today, continue to extend their generous support to Attakkalari's educational initiatives. Without their backing, there are many students who might not have been able to participate in the course at all. We thank them warmly for their belief in our work, and look forward to a fruitful and productive association in the future as well.
Workshops, Partnerships and more

Workshop on Lighting Design and Operation Skills
| | |
| --- | --- |
| | Attakkalari and Transmedia Technologies in partnership with the British Council hosted a unique workshop on Light Design and Operation Skills from 19 to 21 September 2017. The workshop was part of British Council's Cultural Skills engagement, the first of its kind in South Asia. 14 participants from across India were involved in the three-day training led by UK's leading light designer Micheal Mannon. This strategically coincided with the internationally acclaimed Company Wayne McGregor's India tour that fits within British Council's UK India Year of Culture 2017. Some of the participants have even explored the option of shadowing the Wayne McGregor tech team during their tour across India. |
Yashti & Who at the BENCH showcase
Hemabharathy Palani, Rehearsal Director, and Ronita Mookerji, Associate Artist, of the Attakkalari Dance Company travel across the UK to showcase their work with 2Faced Dance Company's BENCH programme. The Bench is a funding platform setup by 2Faced Dance Company for women choreographers globally.
The Bench extended this funding through the Arts Council England and British Council's Reimagine India Programme. Their works were chosen by the Company at Platform 17 – a pitching session for choreographers' setup by Attakkalari at the Attakkalari India Biennial earlier in January 2017.
Ronita tours with her performance Who where she collaborates with our Associate Artist Prashant More.
Hema tours with her performance Yashti across UK from 27 September to 10 October 2017. Yashti was co-produced by Attakkalari Centre for Movement Arts.


Artistic Director in Canada

Attakkalari's Artistic Director Mr Jayachandran Palahzy has been invited to travel as a delegate to Festival Qaurtiers Danses in Montreal from the 13th to 24th September 2017. Mr Palazhy will thereafter be travelling across France and Europe on an extended networking tour for Attakkalari.

Classes galore and for all

As a part of Attakkalari's commitment to advancing interest in the arts amongst the wider community, regular classes are held in the evenings and mornings for dance and movement enthusiasts, across all ages. Over the years the community classes have developed a steady following and many young participants, serious in their commitment to the field of dance, have even chosen to apply for the Diploma Course. These community classes provide an effective vehicle for people who understand that to maintain a healthy equilibrium in the urban life, a degree of systematized movement is important. Attakkalari offers a whole roster of movement form for the interested, starting from Contemporary dance forms, to Kalaripyattu, Bharatanatyam, and even Yoga. We encourage you to check the complete list of dance and movement classes on the Attakkalari website by clicking here

 

Photo Credits: Darshan Manakkal, Tejovanth N, Aniruddha Tiru and Attakkalari

Attakkalari Centre for Movement Arts
24-04, BTS Bus Depot Road, Wilson Garden, Bangalore-560027
Tel: 91 + 080 + 2212 3684, 4148 3534, 4146 7690
www.attakkalari.org