Spotlight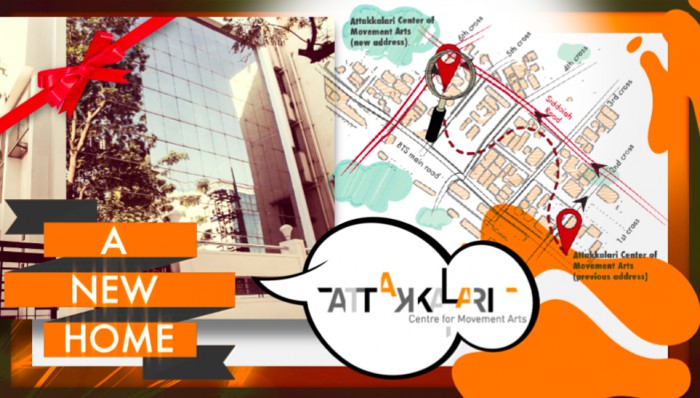 Attakkalari moved to a new campus!
Team Attakkalari wishes to thank you for your unstinting support and encouragement during Attakkalari's incredible journey marked by many strategic and landmark initiatives that changed the face of contemporary dance scene in India and produced many artists who continue to make a mark in the national and international performing arts scene. If you are joining us in this exciting journey, we welcome you wholeheartedly. We are pleased to inform you that we have left our base on 2nd Cross in Wilson Garden and found a fabulous new home in the state-of-the-art building on the 6th Cross in Wilson Garden (barely 300 meters from the previous premises). This facility has multiple studios, a performance arena, café area and technical as well as administrative facilities, which will help us to launch an even more exciting phase for Attakkalari and its many strategic transdisciplinary initiatives. The new multi-art venue will host performances as well as training programmes and courses involving different art forms and somatic practices for all age groups and from all backgrounds. We will also welcome curators, directors and organisations who wish to organise specially curated events making use of the technical and architectural facilities of the new venue. During just concluded Attakkalari Interim Festival (1 to 10 February 2019) we have launched a new initiative called "Incubation Centre for Arts and Media (ICAM)" in which 12 international artists from Italy, Canada and Korea worked with 6 Indian dance artist to create original performance works, which was featured in the festival. The new campus and the ICAM will enable us to support choreographers/dancers, directors/theatre practitioners and other performance makers to explore and experiment, prototype and produce as well as present and tour their work. Attakkalari will be able to provide studio space, accommodation and technical support for such initiatives.
Here is the new address (just 300 meters from the previous place). Our contact numbers remain unchanged.
ATTAKKALARI CENTRE FOR MOVEMENT ARTS
377/22, 6th Cross, Wilson Garden, Bengaluru - 560027, India
In the News

Grand Opening of our New Space!!



We are delighted to invite you to join us on 31 March (Sunday) any time from 3 pm to 6pm in celebrating the completion of an incredible journey of the last 18 years of Attakkalari in Bangalore, and to open the doors to a far more exciting future that will traverse through many paths of multi-art initiatives and transdisciplinary ventures. Please join the talented artists in a 3-part, site-specific, promenade performance and installations that will animate the 4-storeyed building reminiscing the artistic milestones and offering glimpses of its enormous potential for the future. You can choose any of the time slots – 3pm, 4.30pm or 6pm to join in this very special immersive journey of discovery on a beautiful Sunday afternoon over high tea at our new abode on 6th Cross in Wilson Garden, Bangalore.

Please register here indicating your chosen time, as seats are very limited due to the very nature of the event. Looking forward to welcoming you to our future together.

For more information -
Call: 080-41467690
WhatsApp: 9972946273
Email: activities@attakkalari.org

 
Attakkalari Diploma in Movement Arts and Mixed Media



Admissions are now open for Attakkalari's much sought after two-year Diploma in Movement Arts and Mixed Media programme, which will commence in September 2019. We are currently accepting applications for the batch of 2019-2021. The interested applicants can also opt for the one-year certification programme for 2019-2020.
Talented and passionate pre-professional dancers seeking a world class training conducted by highly reputed institute with impeccable track record programme are encouraged to apply for the Diploma programme. Interested applicants must attend the selection process in any of the cities where Attakkalari conducts audition or at Attakkalari studios in Bangalore. For those who are unable to travel can also attend the selection process through online video submission. Graduates of the programme have gone on to join many reputed dance companies and get opportunities to participate in many international Residency & Exchange programs as well as to pursue successful careers in Contemporary dance internationally. There are also many opportunities to engage in choreography and performance for theatre, films, television, fashion events, online platforms, corporate and social events as well as to become an instructor/teacher in schools, colleges, corporate houses, fitness centres. The academic year is from September to August. The early bird annual tuition fee is INR 200,000 for Indian students and EUR 5,000 for international students if paid before 31 August 2019. After that the fee for Indian students will be 215,000 and international students EUR 5300 and it has to be paid before the commencement of the course. Attakkalari's Diploma in Movement Arts and Mixed Media is an intensive, comprehensive, two-year training programme in contemporary dance. Since the inception of the Diploma programme in 2006, many dancers have graduated from Attakkalari, who have gone on to perform, teach, and choreograph in India and abroad. This carefully crafted programme is designed to enable young dancers with the requisite skills to work both in the performative and educational contexts, in India and internationally. Anybody who is interested in dance and movement can participate in the workshop. Participants who wish to audition for the Diploma programme, should be 16 years of age or above and should have completed Standard XII or equivalent level of school education. No prior training in dance is needed. We are more interested in the potential of the candidate rather than previous training. The audition will test the general physical and spatial awareness, coordination, musicality, cognition and imagination of the participant.

We have started the auditions from January 2019 and they are currently going on in full swing across the country. Auditions and admission process will be completed by September 2019. We've received an overwhelming response in the auditions and open workshops, and we aim to reach out even further!

Audition details for the next phase:
Hyderabad – 7 April 2019
Bangalore – 7 April 2019
Goa – 14 April 2019
Chennai – 27 April 2019
Delhi – 28 April 2019
Pune – 28 April 2019

Register at here for the auditions.
You can also audition online by sending a short video of you performing a solo, along with your resume to education@attakkalari.org.
If you belong to any other city/country and would like to participate in the auditions, do let us know by writing to us at education@attakkalari.org or talk to us on +91-98117-37441
Summer Camp



Every summer, millions of Indian parents look a summer camp for their children. Although each camp is different, when talking with parents, there are common themes that continually come up about the benefits of summer camp. It is a special occasion where kids come together to have fun and develop new friendships while learning new skills . Within the camp setting, children develop a sense of independence as they try new adventures away from home. The camps provide a safe environment where children can gain self-confidence as they learn new skills. Being one of India's leading performing arts organizations, Attakkalari Centre for Movement Arts has made the Summer Camp an exciting space for young people, by offering holistic dance and physical training which is not only rich in learning but memorable for its fun quotient! Every year we aim to engage young people through a carefully crafted dance and physical education programme that aims to create teamwork, muscular coordination, innovation through movement and the joy of performing on stage in front of an audience! The camp will be conducted in our fully equipped studios, so the children can experience a professional training setup! Attakkalari's faculty, known for their excellent dance teaching methods across India, will be teaching at the Summer Camp. Participants will have the opportunity to experience the joy and freedom of contemporary dance forms and the immense focus, strength and flexibility that Indian martial art Kalarippayattu offers. Classes are held in the forenoon and afternoon from Monday through Saturday. The children will also can try their hand in art and craft making. The Camp ends with a gala show that includes performance of the children at ADA Ranga Mandira on 4 May 2019.

Timings and fees:
Kids (5 to 8 years) – 10 am to 1 pm - INR 4500/-
Tweens (9 to 15 years) – 10 am to 1 pm - INR 5000/-
Teens & Young Adults (16 to 25 years) – 2 pm to 5 pm - INR 5500/-

For more information:
Call: 080-41467690
WhatsApp: 9972946273
Email: activities@attakkalari.org

Recent Events

Mobile Academy

Attakkalari's Mobile Academy Programme is travelling to Kolkata and Hyderabad this time. The Mobile Academy offers a student centred comprehensive movement arts training programme leveraging Attakkalari's huge expertise and experience in the field. We will be conducting sessions for the Department of Performing Arts at the Presidency University, Kolkata from 1-5 April and then at IIT Hyderabad from 6-9 April. The Mobile Academy Programme is a concise training opportunity for dance enthusiasts across all ages. It is specially developed by Attakkalari to plug in with cultural partners across India who see training in dance and movement arts as integral to the holistic education and overall development and fulfilment of a student.

This time both projects will be led by our artistic director, Mr. Jayachandran Palazhy and assisted by senior dancer and rehearsal director Hemabharathy Palani and Virender Nishad. Please write to education@attakkalari.org if you wish to host the Mobile Academy at your institution.

Festival and ICAM



Keeping with Attakkalari's tradition of spreading the reach of Contemporary Movement Arts and providing a platform for cutting edge innovative practices across the globe, the Attakkalari Interim Festival 2019 presented a multitude of international performances and transdisciplinary partnership projects at Ranga Shankara Theatre and Attakkalari Studios in Bangalore between 1 -10 February 2019. This festival marked the launch of a new phase for Attakkalari's strategic initiatives. With the contemporary dance community growing steadily in India, the festival focused on creating opportunities and strengthening international collaborations to produce thought-provoking original new works. The festival witnessed ground-breaking performances and collaborative projects from Germany, Italy, Switzerland, Canada, Spain, Britain, France and Korea. The Attakkalari Interim Festival delivered a unique and memorable experience like no other. We thank all our valued partners and the incredible audience who came for every show and participated in the post-show discussions.
We launched the Incubation Centre for the Arts and Media during the festival. In this very first phase of ICAM, we hosted a residency for 6 Indian dance artists who collaborated with Andrea Pena and Artists (Canada), Salvatore Lombardo, Dario Greco and Davide Valrosso (Italy), Rachel Davies and Daniel Saul (UK) and created 'Work In Progress' presentations which were featured in the Attakkalari Interim Festival. They will continue to develop this work subsequently. Korean dancers So Jung Park and Sang -Ruly Han also were the residents at ICAM and developed their choreography and presented at the festival. Today, many artists are choosing Bangalore as their base and the city has evolved as a hub for creative arts, leveraging the general entrepreneurial spirit of the city. ICAM is poised to grow into an artists' led initiative to explore, prototype and produce original performances, further pushing the boundaries of contemporary dance scene in India.

Photo Credits: Arun Koothaduth, Anne Odoj, and Attakkalari

Attakkalari Centre for Movement Arts
24-04, BTS Bus Depot Road, Wilson Garden, Bangalore-560027
Tel: 91 + 080 + 2212 3684, 4148 3534, 4146 7690
www.attakkalari.org