Spotlight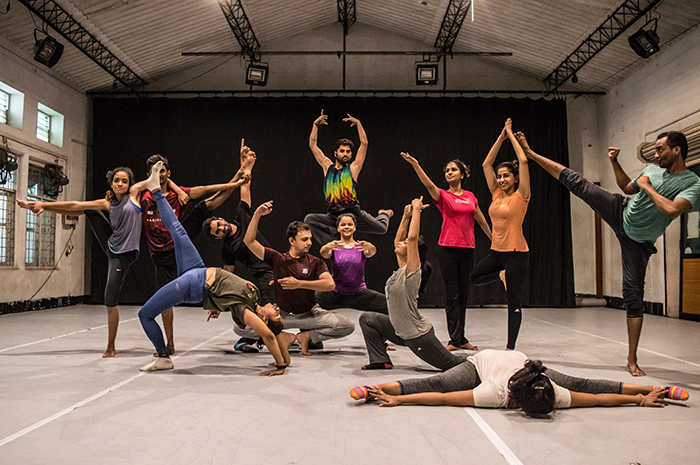 SANTHULAN – A PROFESSIONAL ENSEMBLE OF ATTAKKALARI'S OUTREACH PROGRAMMES
Attakkalari Centre for Movement Arts is hosting Bengaluru's biggest community dance showcase on Sunday, 16th July 2017 at Gurunanak Bhavan auditorium from 6.30 pm onwards. The evening will be dedicated to celebrating contemporary dance, Bharatnatyam and Kalaripayattu by the regular community class students of Attakkalari.
Attakkalari strives to introduce dance to participants from different social classes. This evening of dance has been named 'Santhulan' which means balance. The event focusses on bringing together community and professional dancers from various backgrounds and enabling them to create work that is unique to their styles.
Attakkalari runs an extensive community outreach programme in the city which involves community dance classes at the centre and modularized programmes in several educational institutes across the city and country. Santhulan 2017 is envisioned as a platform to encourage and cheer students of dance, working employees, contemporary artists, theatre professionals, regular moms, super dads, young adults, teens, and kids who regularly participate in the ongoing community classes at Attakkalari.
The range of performances include socially relevant ones like 'Om Mane Padme Hum' (Let peace prevail on earth) choreographed by Ronita Mookerji​ which asks relevant questions about the violence around us and 'Breaking Free' choreographed by Snigdha Prabhakar ​that talks about breaking free from the monotony of life through dance to the ones that are short, fun, and entertaining sequences exploring technique and form. It will be a proud moment for many parents as their children take to the stage for the first time to express themselves through this wonderful medium.
Sharing his views on the vision for his work, Artistic Director Jayachandran Palazhy observes, "Santhulan is making dance accessible to a wider community in more than one way. Through this process, we hope to trigger a catalytic effect over a period, that will create an understanding of the long-term role of culture in shaping a nation's history and well-being by creating a community that cares." Anindita Ghosh​, one of the choreographers and repertory dancers at Attakkalari shares, "The classes are a lot of fun for all of us at Attakkalari. The relationship between the participants and choreographers, forged during the choreographic stages of all the pieces, will always stay etched in our memories." Prashant More​, another choreographer, feels, "The effort put in by the students was evident in their performances. This reflects their commitment and love for dance."
Tickets could be purchased online or at Attakkalari's office on weekdays from 10 am to 5 pm. For more details about the classes at Attakkalari, visit here. To buy tickets or for queries, call 080 2212 3684 or write to education@attakkalari.org. Do join us for a vibrant celebration of dance!
In the News

GRADUATION 2017 – DIPLOMA IN MOVEMENT ARTS AND MIXED MEDIA
Bigger, better, and energetic than ever. The students of first and second year of the Diploma in Movement Arts and Mixed Media programme are working relentlessly towards their big day. This year, the graduation performance of the most-sought after programme in the country for Movement Arts is taking place at Chowdiah Memorial Hall, Bengaluru on Monday, 14th August 2017 from 7 pm onwards.

Double the batches means double the visual splendour. The city which is used to watching graduating students from Attakkalari perform with grit and grace every year, will now also see the first batch of second year of the programme who have transformed into matured movement artistes over an additional year of rigorous training – physically and mentally. The styles of pieces include graceful Bharatanatyam, suave and eclectic Contemporary dance, energetic Chhau and enterprising Kalaripayattu. The students, over the year, trained with experts from all these fields ranging from Indian exponents in traditional art forms to experienced choreographers and artistes from across the world.

To ensure that you are part of this visual treat and to congratulate upcoming talented artistes for their arduous effort, book your tickets now. They can be purchased online or from Attakkalari's office on weekdays from 10 am to 5 pm. For more queries about the programme and the event, contact 080 4098 7593 or projects@attakkalari.org.
LAST LEG OF AUDITIONS – DIPLOMA BATCH OF 2017
The 2-year full-time Diploma in Movement Arts and Mixed Media offers a comprehensive and professional platform not only for people who wish to become a rock-star on stage, but also to the ones who want to realize their true calling, to make themselves aware of their own body or to just explore the wonderful medium of art - dance! It is never too late at Attakkalari and is true indeed with the diploma programme. Individuals from various walks of life – chartered accountants, physiotherapists, management students, young mothers, college and school graduates, dance enthusiasts and Bollywood fanatics – share the studio space for a whole year only bound by their passion for dance.

While prior dance experience is not required, prospective students must have an aptitude for dance and must have completed 10+2 or equivalent academic education. Attakkalari's audition process lays emphasis on assessing the participant's physical awareness, overall coordination, strength, speed, flexibility, musicality, sense of rhythm and space, comprehension, and most importantly, creativity and ability to imagine.

The next batch of Diploma begins on Friday, 8th September 2017. Seats are filling up fast and the final few auditions are going on now. To ensure you secure your place in the upcoming batch, do participate in any of the auditions mentioned below or send a video of you dancing to education@attakkalari.org. To register for an audition or to know about upcoming auditions, fill your details here.

15th July 2017 – Bhubaneshwar – FSDC Studio – 11 am to 2 pm
20th July 2017 – Bengaluru – Attakkalari Studios – 6 pm to 8 pm

IN OTHER NEWS

ATTAKKALARI STUDENTS FESTIVAL – JANUARY 2018

Another feather in the cap, Attakkalari is glad to introduce a novel educational initiative in January 2018 - a first of its kind that brings various schools and colleges in the city (Bengaluru) together on a platform unified only by the art form. The Attakkalari Students Festival (29, 30 and 31 January) is an effort to offer a multi-faceted and all-round experience in Performing Arts to students from different educational institutions across a variety of economic, cultural, and social backgrounds. The initiative aims to involve the participants in a month-long training with movement arts facilitators and choreographers along with workshops in stage technologies, music for dance, costume design, script-writing etc. comparable with a wholesome artistic residency. The residency will culminate in public presentations during the festival.

There will be a series of masterclasses and meet-the-artist sessions organized for the public and dance community with the participating artistes from within and outside India. The festival will also include a variety of seminars, conferences, and panel discussions with experts in the fields of education, performing arts and other relevant areas.
For more details or to participate, please get in touch with us at education@attakkalari.org.

ATTAKKALARI IN CHINA

Attakkalari's artistic director Jayachandran Palazhy and the repertory's rehearsal director Hema Bharathi Palani are invited to teach workshops as part of the Dance Camp held during the Beijing Dance Festival from 18th to 30th July 2017 – one of the biggest celebration of dance in Beijing and other cities in China. The festival has two primary focus areas – education through the Dance Camp and performance across three platforms. Under the performance component, Hema Bharathi will be performing two of her solos.

Senior dancers from the repertory and light designers from TransMedia Technologies will join later for performances in Guiyang as part of the 2nd Guizhou Dance Festival during the first week of August 2017.

Photo Credits: NP Jayan, Darshan Manakkal, Tejovanth N, Aniruddha Tiru and Attakkalari

Attakkalari Centre for Movement Arts
24-04, BTS Bus Depot Road, Wilson Garden, Bangalore-560027
Tel: 91 + 080 + 2212 3684, 4148 3534, 4146 7690
www.attakkalari.org