Spotlight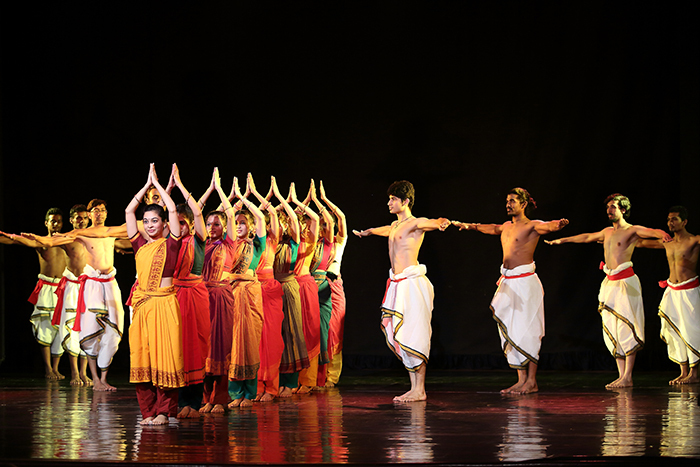 Body Matters - India's first Arts in Education Festival for Dance
Attakkalari launches Body Matters - Move to Transform, India's first arts in education festival with a focus on dance and movement arts. Thematically, Body Matters - highlights the importance of dance and movement arts as integral part of the holistic education initiatives in India. The festival will shed light on creativity, innovation, and knowledge production as the driving forces for transforming individuals and society in general. The emphasis will be on education strategies for overall development of the individual by making dance, movement arts, and cultural skills integral to a creative and student-centered educational approach. Over the next few months, we will be sharing with you programming details of the festival and how you can play a crucial role as partners of this exciting initiative.
In the News

Auditions for the National Diploma Programme on Movement Arts and Mixed Media 2018/19



Attakkalari Centre for Movement Arts has begun its call for application for the National Diploma Programme in Movement Arts and Mixed Media for the academic year of 2018/19.
Initiated in 2006, the Diploma is a one of its kind professional course for dancers in India featuring intensive training sessions in traditional Indian dance forms and international techniques. The Diploma is taught by Attakkalari's network of Indian and international faculties and the programme runs for two years.

The auditions comprise an open workshop and direct screening of potential participants from across the country. We've kicked-off the auditions from April and aim to close them by September 2018. So far we've received an overwhelming response in the audition and open workshops and we aim to reach out even further! Groups of budding performers showcased a great deal of zeal and enthusiasm and we would like to thank our venue partners for making it happen!

The audition details for the next phase are:
Delhi - 19th May 2018
Thrissur - 21st May 2018
Kozhikode - 26th May 2018
Bengaluru - 26th May 2018
Mumbai - 10th June 2018

Register here for the auditions
You can also audition online by sending a short video of you performing a solo, along with your CV to education@attakkalari.org.
If you belong to any other city/country and would like to participate in the auditions, do let us know by writing to us at education@attakkalari.org or talk to us on +91-98117-37441

IN OTHER NEWS

Sankshipta demonstrates the power of dance



The curtains came down in style at Attakkalari with Sankshipta 4.0 – our three- three-month certification course in dance for working professionals. We kicked-off the programme earlier in January with an overwhelming response of 35+ participants who were put through an intense training comprising, Bharatnatyam, Kalari, Contemporary and Ballet which we wrapped up in April with a gala showcase attended by a record 170+ people in our main studio! We'd love to have you register for the course and join our short-training alumni network in the end, please write to aseema@attakkalari.org or call us on +91 9811737441 to know more about the next edition.

Our super cool summer camp



35+ young movers were part of Attakkalari's Annual Summer Camp programme earlier in April 2018. They learnt quick moves and made lots of friends not forgetting the action-packed energising show they put up at the end of the camp. The kids had Kalari and the teens perils of social media as their performance theme. Over 100 people trooped in for the gala show and we closed the curtains in style. The summer camp is a crucial part of our arts in education strand and we thank our brilliant faculty and students for making it happen. We're delighted to announce a special 7-Day Intensive Camp from 20 to 27 May 2018. This is open to ages 5 to 25 years. To register visit us on or write to activities@attakkalari.org
Attakkalari joins up with Asian Network for Dance (AND+)

Attakkalari Centre for Movement Arts is now a partner at the Asian Network for Dance (AND+) setup by West Kowloon Cultural District Authority, Hongkong. The network comprises some of the world's most prestigious dance organisations coming together to connect, empower and facilitate the contemporary dance practice in Asia. Jayachandran Palazhy, Artistic Director, Attakkalari Centre for Movement Arts was invited to be part of the launch event and promised to ensure wider representation from across India. We'll make more announcements on how you could get involved, so, watch this space for more.

Hemabharathy Palani invited to receive Rambert's Leverhume fellowship in UK

Hemabharathy Palani, rehearsal director for Attakkalari Dance Company, has been offered the prestigious Leverhume fellowship from the Rambert Dance School, UK. Hema is the first Indian national to be part of this fellowship programme. She will be a resident artist at Rambert, developing new works and collaborating with multidisciplinary partners from different cultures. We wish her all the best!

Photo Credits: Niranjan Gokhale and Attakkalari

Attakkalari Centre for Movement Arts
24-04, BTS Bus Depot Road, Wilson Garden, Bangalore-560027
Tel: 91 + 080 + 2212 3684, 4148 3534, 4146 7690
www.attakkalari.org