Spotlight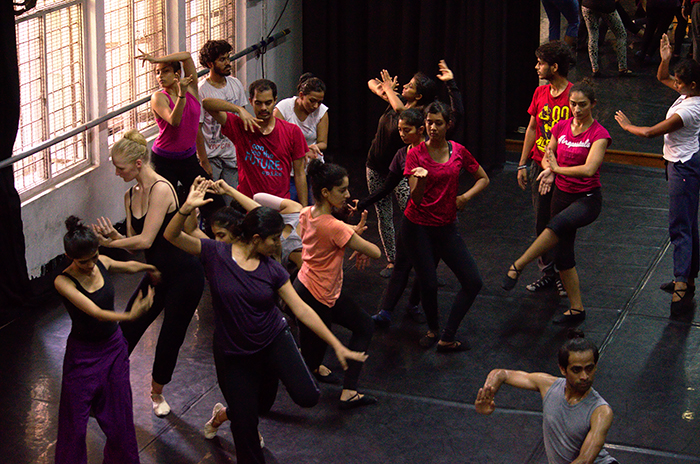 Essence International
Attakkalari is delighted to launch Essence International - a continuous professional development programme for dancers and movement artists from India and across the world The training will be held in Bengaluru from 23 July to 7 August 2018. Launched earlier in March, Essence International is a specially crafted, comprehensive and modular training initiative led by internationally acclaimed artists from dance and allied fields to meet the skills enhancement needs of professional dance artists and performers. This professional development programme will encapsulate exciting modules in physical training, collaborative practises, peer to peer reviews and artistic development that dance professionals seek to further their careers. Dancers with a minimum of two years of performance experience could apply for the programme. The schedule will be announced shortly but do write to activities@atakkalari.org for your participation
In the News

Body Matters presents Movement and Dance competition for Schools
| | |
| --- | --- |
| | Attakkalari's Arts in Education Festival will feature an excitingly fresh competition for schools from across India to celebrate the ethos of the festival. Themed as 'Move to Transform' Attakkalari invites schools to submit a five-minute video of a dance piece that celebrates the theme. The aim of the competition is to encourage students to compete with and attempt to outdo none other, but themselves! In imagination, in technique, in ideas, in choreographies and in moves! It will focus on developing movement skills in students and a final performance showcasing the translation of their learnings onstage. The competition a first in India is part of the festival that is supported by Goethe Institut, Instituto Cervantes, Embassy of Spain in India, Italian Institute of Culture and the Italian Consul General Mumbai. We will select 10 schools from their video submissions and invite them to Bengaluru for an extensive workshop, followed by performances at the Education Festival. Write to attakkalari@gmail.com to sign up your school or to know more about the competition. |
Launch of the Alumni Connect Programme
| | |
| --- | --- |
| | We're super thrilled to launch our Alumni Connect as part of our National Diploma Programme in Movement Arts and Mixed Media. Envisaged as India's leading training course for professional dancers since it was set up in 2006, Attakkalari has to its credit a vast pool of graduates who work closely with us to deliver the ambitions of arts in education, performances and consultancies in various capacities. The alumni connect will formalise the network of past and present students residing both in India and abroad to further the celebrations and creative aspirations of the individuals and the organisation. Write to us to at education@attakkalari.org to know more about the process of registration. |

IN OTHER NEWS

Jayachandran Palazhy at Ranipet, Tamil Nadu

Jayachandran Palazhy, our Artistic Director, has been invited by the Vedavalli Vidyalaya Schools to deliver the Keynote Address on the subject "Education through Dance" in Ranipet on 9th of June 2018 on the occasion of their 25th year celebrations. The keynote address will be a combination of Audio Visual material from the myriad of works we do including our multimedia dance productions and educational activities as well as live performance by Attakkalari dancers. Audio talk describing the concepts, principles and methodologies of Dance Education and its multiple contexts will be aided by a live demonstration by young dance artists to show how practically these ideas translate in a dance class or a performance.

Museum of Goa invites Jayachandran Palazhy



Jayachandran Palazhy, artistic director for Attakkalari Centre for Movement Arts, has been invited to do a lecture presentation at Museum of Goa on"Traditional Physical Wisdom, Innovation and Technology" on 24th of June 2018 at 11 am. The talk will focus on exploring the possibilities of concepts of body and principles of movement in traditional vocabulary and emerging stage technologies in creating new works in the field of contemporary dance.
Meet Stefano Fardelli – our Artist-in-Residence

Italian Dance and Choreographer, Stefano Fardelli is currently an artist-in-residence at Attakkalari. He is at present involved in training, choreography, mentorship and artist development under our Arts in Education initiatives. Having taught extensively across Europe including The Place in London, Stefano has been a recipient of several awards such as the Albarella in Danza, Gdansk International Festival Solo Dance Contest in Poland amongst others. His residency is supported by the Italian Institute of Culture and the Italian Consul General Mumbai

Mobile Academy in the Pink City

Attakkalari's Mobile Academy Programme is in Jaipur (India's pink city), presented by Jawahar Kala Kendra – our longstanding cultural partner in Rajasthan. The Mobile Academy Programme is a concise training opportunity for dance enthusiasts across all ages specially developed by Attakkalari to plug in with cultural partners across India who see dance as a crucial artistic mandate for training, holistic development and fulfilment. The academy is being led by senior faculty members from our education team. Please write to education@attakkalari.org if you wish to host the Mobile Academy at your institution in this year.

Photo Credits: Anne Odoj, Reuven Halevi, and Attakkalari

Attakkalari Centre for Movement Arts
24-04, BTS Bus Depot Road, Wilson Garden, Bangalore-560027
Tel: 91 + 080 + 2212 3684, 4148 3534, 4146 7690
www.attakkalari.org